Saturday, April 21, 2012
Hope everyone is enjoying the weekend.  Homemade BBQ Pizza.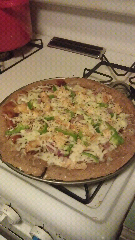 Wednesday, April 18, 2012
I received a $100 AMEX gift card from my job and I promised...
I would NOT buy anything for the HOUSE
I would NOT buy anything for the hubby or the kiddo
With that being said the darn gift card was for me and only ME! So during my weekly visit to the local Sally's Beauty Supply I felt like a kid in a candy store. I decided that this trip was going to be all about nails since I had been keeping up with my New Year's Resolution of staying with a fresh manicure. While searching, I stumbled upon the EMJOI MICRO-PEDI and I decided to give it a try along with a UV lamp and some UV top coat (to be reviewed later). I couldn't wait to get home and try out my new toy. After a foot soak I prepped the MICRO-PEDI using the rougher attachment (it comes with a finer grit one as well), popped in 2 AA batteries and got it spinning. Immediately my heels went from cracked and hard to super smooth and best of all it did not hurt in the least bit. This pampering was much needed due to a winter of foot neglect. After smoothing my heels I began to experiment, I don't want to give TMI but I had this bugger of a corn that was so stubborn and painful. Nothing I did made it go away until I used the MICRO-PEDI the bugger magically disappeared. It was so low and painless, I mean I could wear heels again.
OK this gadget is EVERYTHING.
It is now a part of my pedicure routine and I use it weekly on the little bugger situated on my baby toe. If you are looking for something to help with at home pedicures this is great. It literally erased all of the dead skin on my heels and soles of my feet. This will keep some money in my pocket this summer. I bought it on sale last month for $25 and I have a 15% coupon too- SCORE!
I did some comparative shopping and it was the cheapest at Sally's, check it out
here.
Tuesday, April 17, 2012
First I'd like to WELCOME you to MY WORLD.
This blog will be dedicated to the random things that I buy and/or make and I am so happy to share with you. There will be a little bit of everything here...I can't wait to share with you. Please subscribe and stop buy often....I have some reviews coming in the next few days!